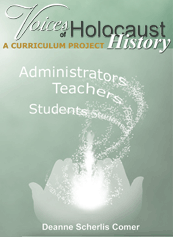 Voices of Holocaust History: A Curriculum Project
---
Voices of Holocaust History: A Curriculum Project. This documentary describes the development of the Abington School District's Holocaust curriculum project and its effects on teaching personnel and students. Segments include administrator/teacher round table discussions and brief testimonies of three Holocaust survivors, Ruth Kapp Hartz, Eva Abraham-Podietz and Liesl Joseph Loeb, that can be used as "trigger" segments for discussions. Student/survivor interactions and classroom preparation lessons are included in this trailblazing and award-winning endeavor.
Approximately 40 mins. $25.00
---
"The documentary , A CURRICULUM PROJECT, has been selected as an entry in the
2008 New York International Independent Film and Video Festival.
---
Testimonial
History texts alone cannot provide students with an understanding of how the Jews of Europe were affected by the Shoah, nor can they make the unfathomable nature of the number six million resonate. . . . child survivors put a personal, individual face on this history as they share their experiences, taking the viewer on a journey . . .
--Rebecca Aupperle, Curriculum Coordinator Pennsylvania Holocaust Education Council Consultant, New Jersey Holocaust Education Commission
---
---
Close window.